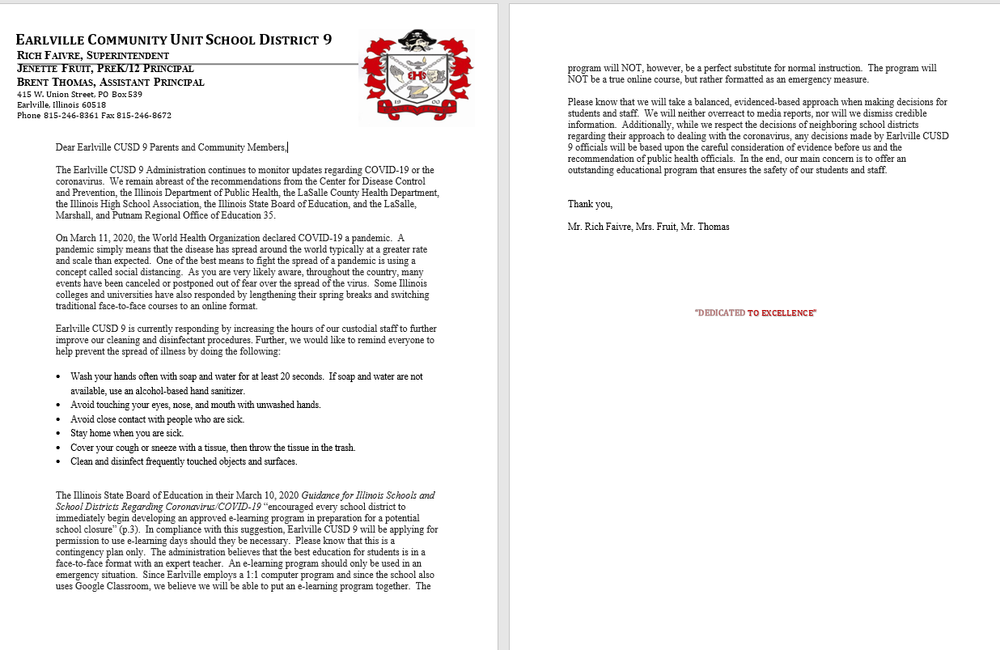 A Letter to the Public
Mandy Ossman
Thursday, March 12, 2020
Dear Earlville CUSD 9 Parents and Community Members,
The Earlville CUSD 9 Administration continues to monitor updates regarding COVID-19 or the coronavirus. We remain abreast of the recommendations from the Center for Disease Control and Prevention, the Illinois Department of Public Health, the LaSalle County Health Department, the Illinois High School Association, the Illinois State Board of Education, and the LaSalle, Marshall, and Putnam Regional Office of Education 35.
On March 11, 2020, the World Health Organization declared COVID-19 a pandemic. A pandemic simply means that the disease has spread around the world typically at a greater rate and scale than expected. One of the best means to fight the spread of a pandemic is using a concept called social distancing. As you are very likely aware, throughout the country, many events have been canceled or postponed out of fear over the spread of the virus. Some Illinois colleges and universities have also responded by lengthening their spring breaks and switching traditional face-to-face courses to an online format.
Earlville CUSD 9 is currently responding by increasing the hours of our custodial staff to further improve our cleaning and disinfectant procedures. Further, we would like to remind everyone to help prevent the spread of illness by doing the following:
· Wash your hands often with soap and water for at least 20 seconds. If soap and water are not available, use an alcohol-based hand sanitizer.
· Avoid touching your eyes, nose, and mouth with unwashed hands.
· Avoid close contact with people who are sick.
· Stay home when you are sick.
· Cover your cough or sneeze with a tissue, then throw the tissue in the trash.
· Clean and disinfect frequently touched objects and surfaces.
The Illinois State Board of Education in their March 10, 2020 Guidance for Illinois Schools and School Districts Regarding Coronavirus/COVID-19 "encouraged every school district to immediately begin developing an approved e-learning program in preparation for a potential school closure" (p.3). In compliance with this suggestion, Earlville CUSD 9 will be applying for permission to use e-learning days should they be necessary. Please know that this is a contingency plan only. The administration believes that the best education for students is in a face-to-face format with an expert teacher. An e-learning program should only be used in an emergency situation. Since Earlville employs a 1:1 computer program and since the school also uses Google Classroom, we believe we will be able to put an e-learning program together. The program will NOT, however, be a perfect substitute for normal instruction. The program will NOT be a true online course, but rather formatted as an emergency measure.
Please know that we will take a balanced, evidenced-based approach when making decisions for students and staff. We will neither overreact to media reports, nor will we dismiss credible information. Additionally, while we respect the decisions of neighboring school districts regarding their approach to dealing with the coronavirus, any decisions made by Earlville CUSD 9 officials will be based upon the careful consideration of evidence before us and the recommendation of public health officials. In the end, our main concern is to offer an outstanding educational program that ensures the safety of our students and staff.
Thank you,
Mr. Rich Faivre, Mrs. Fruit, Mr. Thomas